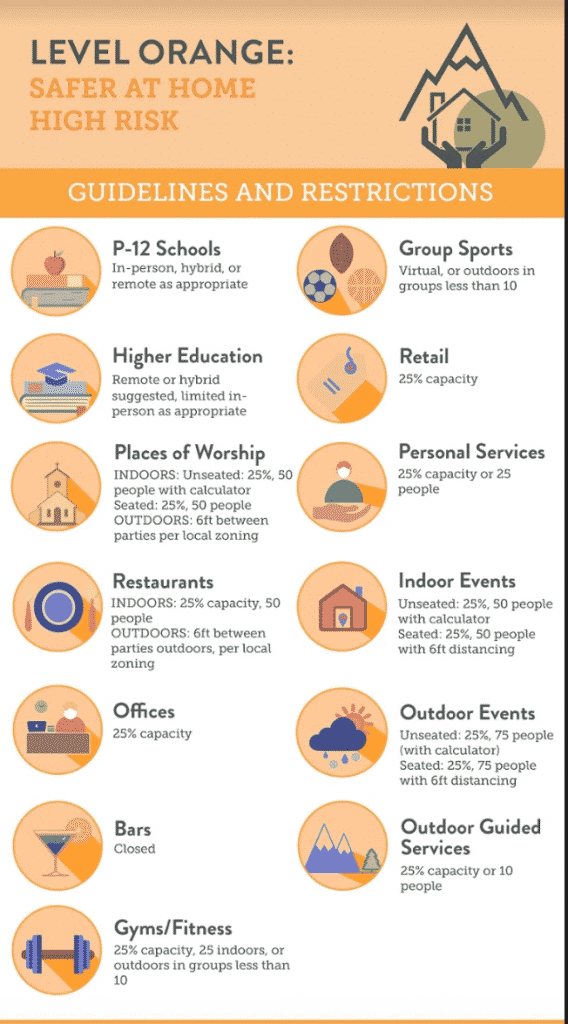 It's hard to believe it's been a year since the Covid-19 virus began in Wuhan China.  From there, we have watched wave after wave of infections decimate our way of life.  Tempranillo Covid restrictions have been flexing with new regulations, old closures and an extremely busy and smokey summer.  Fall hit and so did another wave, this one much worse than before.
Tempranillo is part of Eagle County. Eagle County has been proactive in tailoring the rules specific to actual risk in our mountain community so we trust their recommendations.  As of now, November 18th, the restrictions are severe.  Eagle County has moved into the Orange phase.  What does this mean?
We are only allowed to operate at 25% occupancy, 50 people in the restaurant at a time.
Guests are required to wear masks anytime they are not seated.  This is non negotiable.

No more than 10 in a party with no more than two households.
The Bar is open for dining and drinks as it is considered part of the restaurant.  "Bar" establishments are closed.
Please be respectful to our staff when they enforce these rules. No matter what you believe, we are following rules set forth to remain open for business.

Our staff has done an incredible job keeping you, our guests safe from the virus.  Our diligence in wearing masks, disinfecting restrooms, menus, checkbooks and anything that multiple people touch, has been successful in keeping Tempranillo open and our guests and staff healthy.  Tempranillo remains at relatively low risk due to our mitigation.  It's important to know, the explosion of cases has a direct correlation with counties that have not been following the suggested guidelines. 

We have an incredible patio but it is getting cold out there.  It's not as simple as throwing some heaters on the patio, the heaters required and the area it heats need permits from the town of Basalt to make sure it meets carbon monoxide regulations.  The investment into providing a heated outdoor setting is substantial but we have decided to move forward with truly sustainable outdoor dining so stay tuned!  The entire project should be complete by Christmas if all goes as planned.

We will keep you updated as to the safety precautions we are taking, as well as specials on the menu, and more to look forward to!
¡Hasta Pronto!